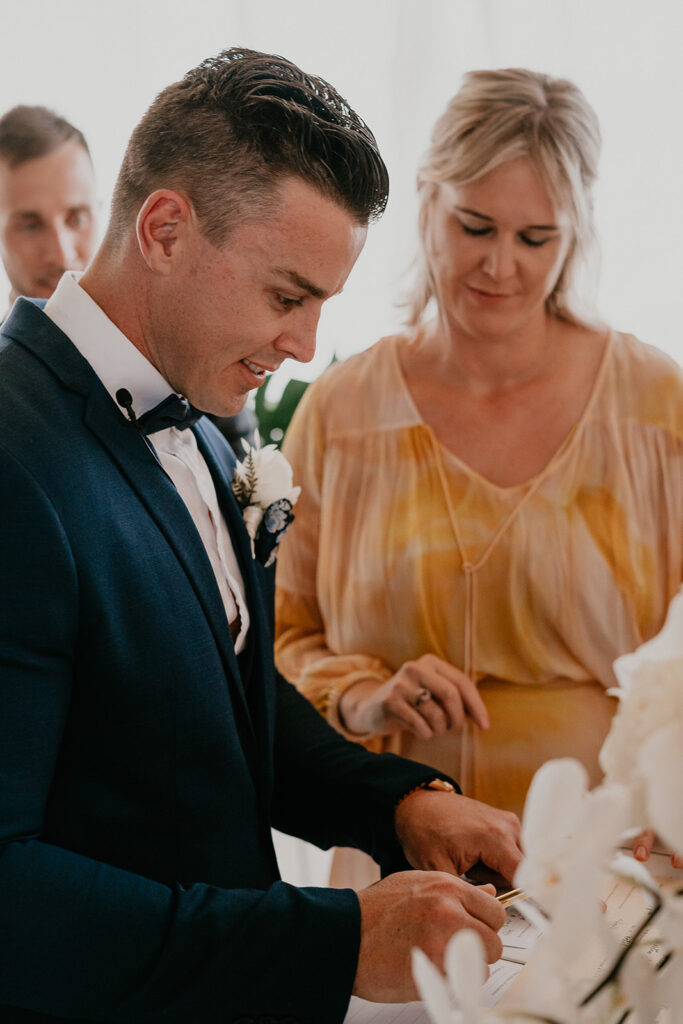 COVID 19 Restrictions have been updated for Queensland. Up to 100 people may attend a wedding. Contacts details must be recorded and kept for at least 56 days.
The answer was yes.
Your wedding is an exciting day; with lots to plan and arrange. Let me work with you to create the ceremony that reflects you both as a loving couple.
I work with you so your wedding ticks all the boxes legally and delivers the ceremony that  expresses your commitment to each other in the most authentic way.
The idea of becoming a Marriage Celebrant was born during the preparation of 'My Best Friend's Wedding'. Her large family including plenty of sisters meant there was no room for me to be a bridesmaid. They posed the question – why don't you marry us? Challenge accepted.
Find out more about Anna as a person and Celebrant here
Anna is a member of the Australian Marriage Celebrants Inc – Australia's leading marriage celebrant association.
"Anna Carrick is amazing, not just as a celebrant but also as a person. From our initial meeting she was very relaxed, informative, timely and helpful to guide us through the process of getting married. Our initial wedding date got cancelled due to Covid-19 restrictions but I wasn't going to stop that from letting my partner and I get married.

My partner and I could not have selected a better celebrant to help us get married on our special day. Anna is extremely professional yet relaxed, friendly, easy-going and can adhere to any situation or environment. I would highly recommend Anna without a doubt to anyone looking for celebrant".
"Anna made our perfect day even better. She guided us through the day from our vows to song suggestions. Her calm nature relaxed Toby and I, allowing us to really enjoy the ceremony. If you want a fun and energetic celebrant Anna is your lady."
We were introduced to Anna through a friend because at the time we where so overwhelmed with the choices as who to pick and it turned out to be the best thing because Anna was amazing. The first time we both met her she made us feel at home and was very warm and welcoming. We could not have picked a better celebrant because on the day and through out the whole process made us feel at ease and made the whole process very enjoyable. Anna is extremely good at her role as a celebrant and we could not recommend her highly enough.